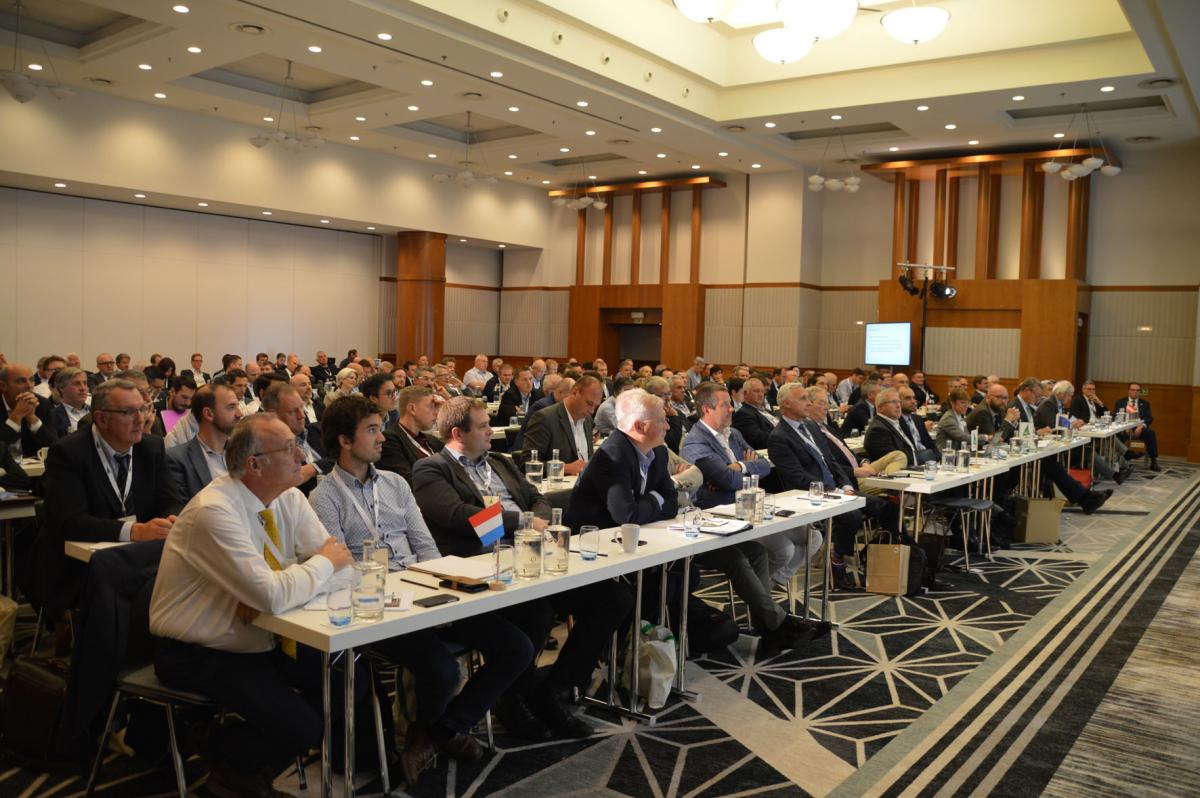 The message from a packed 67th International Softwood Conference (ISC) was that the global softwood sector faces challenges in an uncertain economic climate. At the same time presenters and delegates from around the world agreed that it has positive prospects ahead. That's especially the case in construction, where timber is increasingly seen as the material for low carbon, sustainable buildings in an age ever more focused on tackling climate change and humankinds' wider environmental impacts.
Over 180 delegates attended
The 2019 ISC was held in the historic timber port city and international distribution hub of Antwerp and co-organised by the European Timber Trade Federation (ETTF) and European Organisation of Sawmill Industries (EOS). Belgian textile, wood and furniture federation Fedustria was the national host and the event was moderated with energy by ex-UK Timber Trade Federation President Keith Fryer.
More than 180 delegates attended from around the world – with 250 people attending the Gala Dinner in the historic Marble Hall of Antwerp Zoo.
A truly international line-up of speakers provided a global state of the market overview of and their take on issues facing the softwood trade and industry and its outlook.
As a backdrop to softwood market conditions, Hans Bevers of Bank Degroof Petercam presented a global economic update. Partly as a result of trade tensions between the US and China, and also the US and the EU, he said, international economic recovery of 2016-18 had given way to declining market confidence. He did not predict recession, but said indicators were to the downside.
Speakers from the EU and North America, ETTF President Andreas von Möller, EOS President Sampsa Auvinen, David Calabrigo of Canfor and Marc Brinkmeyer of Idaho Forest Group, addressed conditions in their respective markets. All agreed  that high inventories and continued strong output were issues and had resulted in price depression – with Swedish and Finnish  prices, for instance, down 15-20% from 2018-19.
Mr Auvinen also highlighted the severity of the spruce bark beetle infestation in central Europe, which, combined with major storm damage between 2017 and 2018, had resulted in a further 120 million m3 of timber entering the raw material pipeline.
European and North American speakers said there was growing consensus that climate change was implicated in increased incidence of pests and extreme weather events. As a result the health of the timber base must be a softwood industry priority. However, they also agreed that, given the resilience and resourcefulness of the sector and the 'revolution' in timber and principally softwood construction, the longer term outlook was bright. Engineered timber wood buildings, they said, were being built worldwide to ever more advanced technical specifications and on an ever increasing scale. The 35-storey 'Earth Tower' in Vancouver and 18-storey Haut apartment block in Amsterdam were among those highlighted.
There were perspectives too from Russia, where there is new government support for timber sector development, and from the MENA region, where political stability may remain a concern, but a population of 360 million people, half under 24, meant a huge need for new housing and major potential for the international softwood supply sector.
Richy Zhang of  Zhejiang Materials Industry Senhua Group said the China-US trade dispute was not making life easy for the Chinese softwood sector. But she maintained that increased domestic consumption and economic development of China's western provinces would grow the market.
Delegates heard fascinating insights from researchers into ways to increase forest resilience to climate change, including advanced tree breeding methods, assisted species migration, and greater species mixing.
Architects also underlined their ambition to build more in softwood. They were drawn to it by its inherent carbon benefits, but also as they were increasingly understanding the capacity of engineered softwood in particular to deliver commercially competitive, flexible, energy-efficient structures fast.
Such buildings, concluded Mr von Möller, provided hugely impactful 'free advertising' for the current potential and future possibilities of softwood.
The next ISC takes place in Helsinki 7-9 October 2020.
A full report on the ISC 2019 will appear in the next ETTF Newsletter.